Backstage Mirror Maze is a unique,
new attraction the entire family can enjoy!
Step back into time with us into an Off Broadway theater's backstage area - the scene of an apparent New York Mafia bank heist escape. It's March 11,1933 and Lucky Luciano's gang, one of New York City's five Mafia families has hit the Times Square Bank located next door. Help New York's finest look for the mobsters who escaped through the maze of backstage corridors, props, trap doors and turns. Look close enough and you may even discover some of these unscrupulous characters hiding in the maze. Whether you help capture the gangsters or not, you are sure to enjoy the chaos.

Two Great attractions for one low price!
Bring your family and friends in today and let the fun begin!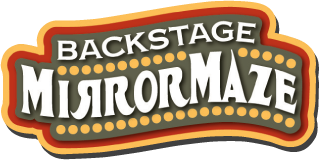 Mind-Bending Experience
Awesome Sound & Light Effects
Intensifying Kaleidoscope Glasses
Fun for ALL Ages
Backstage Mirror Maze is a unique, new attraction the entire family can enjoy! At over 2,000 square feet, the mirror maze's infinite reflections, surprising corners, dead ends and continuous circles will challenge you! It's a truly, mind-bending experience for all ages. Our kaleidoscope glasses will intensify the effects of the dazzling rainbow lights that will confuse and render you utterly lost.

Add to your experience by attempting your own Heist in "The Vault" Laser Maze, our second attraction at Backstage. Enter the Times Square Bank vault where you must artfully navigate your way thru a web of security beams to accomplish your mission. Will your heist be good enough to earn you a position in the coveted Top Ten scores?