Backstage Mirror Maze is a FUN experience for the entire family!
Escape Games are an exciting new entertainment concept that will test your skills and wits with puzzles to solve, challenges to conquer and codes to decipher. You and your teammates work together in a 60 minute race against the clock to complete the mission before its too late? Do you have what it takes?
This fully immersive experience features intense sound and lighting effects, props and decorations and will transport you to an alternate reality. These fast paced games are a one of a kind experience with surprises around every corner that will keep your adrenaline pumping until the very end!

Now offering our original Mirror Maze and two great Escape Games!
Bring your family and friends in today and let the fun begin!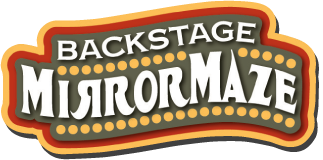 Mind-Bending Experience
Awesome Sound & Light Effects
Intensifying Kaleidoscope Glasses
Fun for ALL Ages
Backstage Mirror Maze is a unique attraction the entire family can enjoy! At over 2,000 square feet, the mirror maze's infinite reflections, surprising corners, dead ends and continuous circles will challenge you! It's a truly, mind-bending experience for all ages. Our kaleidoscope glasses will intensify the effects of the dazzling rainbow lights that will confuse and render you utterly lost.